Testimonials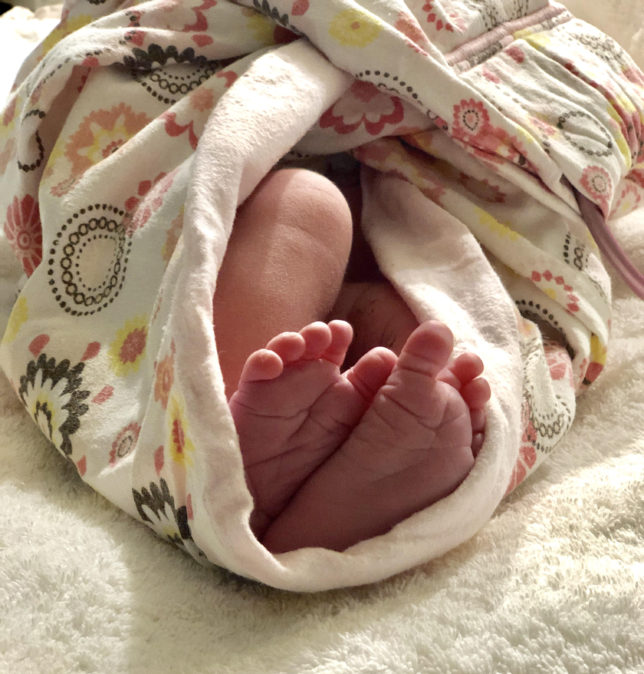 "Throughout most of my pregnancy, I felt really good and had complete faith that I could take it all without any problems. I knew I wanted an epidural and that was that. But pregnancy and birth are unpredictable and when I was thrown a curveball towards the end of my pregnancy, I knew I needed to find a doula. I had always thought that a doula just helped you through the birthing process, providing breathing support and things like that, but Stephanie did so much more!! From our initial phone call and meeting all the way until after we arrived home after giving birth (and even now, 3 months later!), Stephanie has been so supportive and helpful! She has made sure that we are always informed of our different options and does not judge at all.
During the pregnancy, she made sure we knew what our options were once I went into labor and made sure I was as comfortable as possible by showing me different stretches. She checked in often and was constantly in touch when I went to the hospital earlier than planned, even showing up in person to check in well before active labor started. After the birth, she came to our house and made sure everything was going smoothly with breastfeeding and made sure that we, as new parents, were surviving the first few days with a newborn. She helped my little family through so much and I would 100% recommend her to any and all soon to be parents — I know I plan to use her again myself in the future!"—B.H.
---
"I knew I wanted to work with a doula because I'm a first time mom. I was pretty nervous about giving birth (fear of the unknown). After speaking with several doulas in the area, I decided on Stephanie. She had the best energy, hands down. My experience with her was incredible. She helped educate and empower me in prenatal meetings, and she supported both me and my husband throughout the birth of our son in July. She truly went above and beyond for us and I'm so grateful. If you're considering a doula, look no further." —L.F.
---
"I love Stephanie! She was my doula for a Thanksgiving 2017 baby! We just had our first baby, and Stephanie made my birthing experience really positive. I do not know if I could have made it through the pushing phase of my labor without Stephanie's guidance (holding my hands and legs and her positive coaching!).
Stephanie also provided tons of pre-labor support (via home visits) and post-labor support. She is super attentive and would check in on me throughout the whole process and post process without ever being intrusive. Just the right touch. Stephanie really cares about your birthing experience and I am so happy I found her and I am so happy she was part of our birthing experience. I love this woman to the moon and back." —A.T.
---
"Hiring Stephanie was the best decision I made during my pregnancy. She immediately put my first time mom nerves at ease. I was 31 weeks pregnant when I first met with Stephanie. I was having daily meltdowns between work and concerns about the pregnancy. I was overwhelmed and did not feel prepared at all for the birth process or becoming a mom. She was there every step of the way with evidence based information. She helped us stay informed of all the decisions we had to make. Most importantly, she was the support person my husband and I needed.
Before hiring Stephanie, I was not able to sleep. Once we hired her, I got my sleep back, right up until I delivered. She was always just a text or a phone call away… and still is! She is an amazing person & doula. Whenever anyone asks me for advice on the birth process, the first thing I tell them to do is to hire a doula, and if you are in the Bergen County area, hire Stephanie!" —T.H.
---
"Stephanie has been so helpful to me on my breastfeeding/pumping journey with twins. From coming over to my home to help with latching and tandem feeding, to always being available via text if I ever have any questions. Highly recommend!" —M.L.
---
"Everyone says that labor is hard. Well, you don't really know how hard it is until you're in the throes of it. Time stands still and flies simultaneously. You succumb to your own internal ebbs and flows of pain as you get ready to welcome that perfect little angel into your life. Your body literally becomes the vessel of an ancient birth ritual—and no matter how well you've prepared for the event, and regardless of the fact that the body knows what it's doing, what you actually experience is as foreign as it gets.
I knew that hiring a doula would be essential for me considering the fact that I'd chosen to go the natural route (pain killer free! the horror!) The second I met Stephanie in person I knew that she would be the perfect fit for me. She is passionate for what she does, extremely well-educated, experienced, loving, and has a very grounded demeanor. And did I mention that she is also very funny? Well, I couldn't have selected a better advocate for my birth plan. She was able to answer my crazy questions and pointed me in the right directions as far as literature to read, videos to watch, and exercises that would help prepare me for my day. And the day that I went into labor, I felt comfortable and calm knowing that she was there just to help me get through it all.
I highly, HIGHLY recommend Bergen Doula. She will forever be a part of my baby's birth story and a part of my family's life! I love her to bits!" —L.R.
---
"Stephanie was amazing from the first time we met her for coffee, all the way to the birth of our son. Even now, she is an endless source of compassion, advice and friendship. We didn't know much about doulas before seeking her out, but after meeting her, we knew she would be the perfect support system throughout the pregnancy and birth.
The birth was not what we were planning for, and ended up being far more complicated and long than we had bargained for, but she was by our side the entire time. She made sure we understood what was happening, helped our voices to be heard, and made us feel safe during a somewhat traumatic experience. For every question we had, if she didn't know the answer, she would research and find out. Even now, she is always just a text or phone call away, she truly still cares about our little family. We can't speak more highly of her! Stephanie is the best!!" —K.S.
---
"When I was pregnant with my son, I didn't know what a doula was, and I didn't know what kind of birth I wanted to have. All I knew was that I was terrified of delivery! I was anxious about the pain (low tolerance here), the hospital (would they respect my birth plan? would everything be explained to us?), and the whole realm of the unknown (first time mom). After some research I wanted to strive for an unmedicated hospital birth and I knew my husband and I would need strong support and guidance.
After my first meeting with Stephanie, I felt like a weight was lifted off of my shoulders. Her experience, encouragement, and understanding of the process helped turn my third trimester from fearful to joyful. We met and spoke many times in the weeks before birth, and I became more and more excited to experience labor and birth. Knowing that Stephanie would be there to help me get through labor allowed me to revel in the idea of it. I surprised myself — I was now aching to feel the contractions and get through them with her support! I couldn't wait!
We were so lucky to have the birth that we wanted — and I'm not sure I could have done it without doula support. There are so, so many benefits to having a doula, but for me, the best part was simple — that I could just feel calm and truly enjoy the last leg of my pregnancy. I knew that once it was time, we would be in good hands, and that my husband and I could just focus on the experience of labor and birth. Stephanie was an angel that allowed us to fully experience it, let us be in the zone and not worry about details. She is a facilitator of the most ancient beautiful life force.
Another valuable benefit was Stephanie's expertise as a lactation consultant. She was so generous with her time right after birth and really helped my baby and I get into a groove. The hospital nurses and LC's were great, but they simply didn't have the time to sit by our side and patiently guide us through our first feedings. In the weeks after birth, we had some issues and questions, and Stephanie's breastfeeding guidance was paramount! 2 months in, baby and I are nursing like pros. Our second time around, it won't even be a question. Even though we are more confident in the birth process now, we need our doula! Stephanie's guidance was invaluable, magical, and worth every single penny!" —A.B.
---
"Wow where do I begin…I knew from the very start of my pregnancy that I wanted a natural unmedicated birth but I knew that it would be super hard, if not impossible to do it alone, as my husband and I are first time parents with no idea what to expect! We found Stephanie online and when we finally met her we knew it was a match made in heaven. During our time with her, she made us both feel relaxed, calm and excited to give birth to our baby boy. Fast forward to the birth, I was in labor for 17 hours (in a hospital setting) and felt supported and advocated by Stephanie at every moment, and I could fully concentrate on riding each wave. I wanted to quit so many times and get pain medication but Stephanie reminded me of my own strength, my husband's support and the end goal of us meeting our precious bundle. We actually did it! 17 hours, no medication, an alert and feisty babe and a stronger connection with my husband than we ever thought possible. No matter what path your taking with your birth, you will come out the other side knowing you couldn't have done it without her! Xoxo" —N.A.
---
"When I found out I was pregnant, I went through all the emotions— beginning with excitement but evolving into apprehension. I met with an OB who unfortunately did not help ease my worry, did not offer me warm congratulations, and left me feeling like I was in for something I could not handle. Call me crazy, but I preferred to see my pregnancy as normal, exciting and empowering! When I switched to midwives, I had found a better match for me. I had a normal pregnancy, but even if I didn't I knew I was always in good hands. It didn't hurt to get a hug every now and then as well! At first, I was not sure if I would also need a doula or if I could afford it, but my midwives highly recommended Stephanie. She gives hugs too! I loved the genuine, personal care she gives expecting mamas and I knew from our initial phone call that she needed to be our doula.
My baby girl is 6 weeks old now and I'm still raving about her birth and the value of having a doula. I will be for many years to come. A big perk for me was feeling so at ease about having a natural birth, even when things got quite hard in the moment. Stephanie is so knowledgeable about birth and in the weeks prior to my labor and right up to the big moment when the intensity was growing and my husband was beginning to wear out, Stephanie never made us feel like something was not going well or uninformed. I only felt that everything I was experiencing was normal, expected, and that I could do it. It was a stellar feeling that is unfortunately not part of many other birth stories I have heard. I found out how important it was to have Stephanie not only supporting me but also my husband and my family members who were waiting right outside the hospital room door eager for updates. They adore Stephanie as much as we do.
The most admirable thing about Stephanie, which makes her such a wonderful doula, is her energy and passion for this work. She was unwavering in her support after many long hours of labor and she really cares about the families and babies she works with. Her love and support just overflows! She has opened herself up to provide ongoing advice as a lactation consultant and even a mama friend matchmaker, connecting us with other new parents in the area! At our first meeting, Stephanie told us that she never gets tired of seeing babies born but that it is even more magical to see a woman become a mother… so Stephanie is just… *sigh* amazing!!!" —L.C.
---
"I was hesitant about getting a doula at first. I had a hard time justifying the expense, and with so many other decisions to make at the time, I was dragging my feet with the search. Eventually, around the end of week 38, I decided to interview a couple to see how I feel.
I don't know if it's fate or just dumb luck, but Stephanie was available and seeing her reviews online I reached out to her. After one phone call I could tell this is the type of person I needed in the delivery room – direct, honest, warm, caring, funny, motivated, professional… Ultimately, I just enjoyed talking to her. Her sense of humor and confidence made me immediately comfortable, and we set up an appointment to meet in person. Little did I know I'd go into labor the next day, a week early! I called Stephanie to tell her I'll require her services earlier than I thought. She did not hesitate, and that night once I needed her, she was at my door ready for action.
I can't say how happy I am I decided to take her. Throughout the entire thing she was supportive, comforting, helped both me and my husband keep our heads, was friendly with the hospital staff and made sure we were kept informed and I was distracted from the pain.I ended up getting exactly the birth that I was hoping for, getting an epidural late enough so that I didn't need to be induced, and it was purely Stephanie's pain management that helped me through those last few crucial hours before the medication. She's a miracle worker. After it was all over, she was there to help me breastfeed for the first time, and even took some candid pictures of our little family that I will treasure for the rest of my life.
A couple of days later Stephanie came to our home for a postpartum visit. I'm not exaggerating when saying she already felt like family to us. She stayed for hours going over everything from latching and positioning during feeding, to pumping and general baby care. Whenever I had an issue in the following weeks, I texted her and she answered immediately, always being very attentive and excited to help.
Stephanie is a treasure. I highly recommend getting a doula for birth in general, and specifically, I can't imagine my own birth without her." —T.N.
---
"I couldn't be happier with the choice I made to hire Stephanie as my doula for the birth of my son. As a first-time mom, I was looking for someone who would guide me as well as advocate for me when I was at my most vulnerable moments. Stephanie made me feel prepared for the unprepared and was there by my side the entire time. I look forward to having her be a part of my family forever." —A.Z.
---
"We knew we wanted a doula when we first got pregnant with our first baby in July 2018 but had no idea of the gem we'd found when we met Stephanie! From our first meeting, Stephanie made us feel so at ease—like we'd known her forever! Her passion for supporting mothers, babies and birth partners was amazing. From the moment of meeting her, we had an amazing partnership. Anytime we had a question or needed support, she was just a phone call or text away. Her prenatal visits were thorough and personal; she helped us feel so prepared!
Once I was in labor, Stephanie sprung into action and went well beyond the call of duty to make sure our goal of a natural, unmedicated birth became a reality. We *truly* couldn't have done it without her! She's also helped with our breastfeeding endeavors and made this transition to parenthood so much easier! I'll forever be grateful for Stephanie—she made our dreams come true!" ❤️ —D.B.
---
"Where do I begin with this review/novel…I knew I wanted a doula when I decided to attempt a water labor under the care of a midwife. I was under the impression that a doula shows up at your birth, helps you get through labor, and that's the end of that relationship. Stephanie was an amazing support through the labor process, but it was the time before and after the birth that caused my husband and I to frequently say "wow, it was worth it to hire Stephanie just for that…"
Prior to labor, Stephanie came to our house twice to ensure we were physically and emotionally ready for the arrival of our baby girl. She checked in over email throughout the last trimester, and was so responsive to the barrage of requests I sent her over that time. She helped me change over to a new midwife practice, and also find a great local pediatrician and chiropractor (all people she would personally vouch for), and any health-related recommendations she sent to us were always accompanied with the science/research she knew I would want to review myself. During the last few weeks when there were a lot of weird body changes, it was Stephanie I called to talk me through what was normal and how to cope.
During labor, Stephanie did everything I could have wanted or needed. Labor and delivery didn't go exactly as planned, and Stephanie was there to provide physical and emotional comfort, and also play the "pushy mom" role when we needed something from the hospital staff.
After labor, Stephanie stayed with us to work on nursing and ensure we were ready to move to recovery (even though she was coming off back-to-back deliveries and hadn't slept in several days, she wouldn't leave until we said we were ready). Our baby is now 12 days old and I've talked to Stephanie almost every day. She came for a post-partum visit and immediately corrected the bad latching habits I had picked up at the hospital. She's talked me off the ledge multiple afternoons and always texts me back – even when losing my cool over a 3 am feeding. When I asked if she knew anyone who could come give us a night of relief (post-partum doula), she immediately called up her contacts and found us someone great…and checked in the next morning to see how it went.
In summary – Stephanie has been everything to us over these crazy 4 months. Her local connections, experience as a mother of 3, and training as a lactation consultant make her an incredible resource. Her compassion, sense of humor, and boundless energy make her a fantastic doula. I can't imagine having gone through this experience without her, and I look forward to a continued relationship with Stephanie in the future (and maybe for baby #2!)." —S.H.
---
"I love Stephanie! She was my doula for a Thanksgiving 2017 baby! We just had our first baby, and Stephanie made my birthing experience really positive. I do not know if I could have made it through the pushing phase of my labor without Stephanie's guidance (holding my hands and legs and her positive coaching!).
Stephanie also provided tons of pre-labor support (via home visits) and post-labor support. She is super attentive and would check in on me throughout the whole process and post process without ever being intrusive. Just the right touch. Stephanie really cares about your birthing experience and I am so happy I found her, and I am so happy she was part of our birthing experience. I love this woman to the moon and back." —A.T.
---
"There is no better person you could want with you during this special time in your life. She is compassionate, caring, funny and has incredible strength, love and patience! She was born to do this! She's the best!" —N.L.
---
---
I hope I can do justice in putting together the words to express how Stephanie's work as my doula was nothing short of TREMENDOUS. The help and support that I received is what I wish for every, as Stephanie would say, "Mama" and her baby and should be their rite of passage. Some people are born into this world to perform a certain role and I believe Stephanie was born to be a doula. Her passion and dedication shine through and are demonstrated in her care and commitment to you and your baby.
Why hiring Stephanie as my doula was so valuable:
• First and foremost, the quality that I think makes Stephanie so talented as a doula is her high emotional intelligence. She really understands people and truly listens and values you as a person. Having someone by your side that works hard to understand you and value you during this time in your life is so important and comforting.
• Prior to the birth of my daughter, Stephanie and I worked together to create a birth plan. Although I had done research on some of the topics online, she was able to discuss so much more extensively what the impacts of each accommodation as well as the mechanics of what goes on in the delivery room/hospital were with so much more depth and breadth from anything I would have found on the internet. This allowed for me to not only be so fully informed, but to make decisions about my child's birth I may not have made without this expert knowledge. It made a HUGE difference and allowed me to more fully understand what to expect on the day of.
• Stephanie provided excellent literature to read to prepare for childbirth: different articles, books, and even an affirmation ring with different inspirational quotes to meditate on (I had told her how spirituality and faith were important to me and she provided me with this taking into consideration my unique needs and who I was as an individual)
• In the hospital, she used her experience to navigate the delivery room in a manner which allowed for me to have the best birth experience I could have ever imagined. Having someone there to advocate for me and to ensure that my experience was of the highest quality really attributed to my experience. When you are in the middle of labor, it becomes nearly impossible for you to do this on your own. If you want to have the ability to have some say and direction in terms of what happens to you the day of, having Stephanie as your doula is an asset. Also, understand that it's often necessary for nurses, midwives, and doctors, to have to step out of the room while you are in labor. Stephanie stayed by my side throughout the delivery to answer all of my questions, support me, and do whatever was necessary to help ease the whole process, calm me down, and allow me to focus.
• After I delivered my daughter, Stephanie stayed with me to provide guidance on the early steps to breastfeeding and how to transition into new parenthood. If you are anything like me prior to having my daughter I thought breastfeeding would come naturally and be easy, but boy was I wrong. Having someone show me how to get started was so valuable because I really wouldn't have known how to get over this challenge on my own.
• A week after my daughter's birth, she came for a post visit at my home to continue to support me as I was having a difficult time latching my daughter and pain associated with breastfeeding. The month following birth is a very difficult time and it was reassuring to have Stephanie there to address all of my questions and concerns.
• Stephanie was available every time I picked up the phone to call her. She gave such amazing support and advice on every issue no matter how small. The breadth of her understanding and experience really came in handy and helped me. Her kindness, compassion, and positive encouragement were a help beyond measure.
Overall, I don't think I can put into words just how much Stephanie stepped up for my daughter and I and provided us with expert care. I had the best birth experience I could have ever imagined. I am so utterly grateful that I had such an amazing person and excellent doula to go through the whole process with. She truly felt like she was sent from above. I am going to echo another woman's sentiment that I read on here and say that having Stephanie as my doula was truly THE BEST DECISION I EVER MADE. —A.P.
---
Working with Stephanie was life changing. Before meeting her, my husband and I weren't sure about whether or not to hire a doula. Knowing that we wanted to have a successful home birth, we interviewed several doulas as I neared the last weeks of my pregnancy.
Our connection with Stephanie was instantaneous and we think that this is a testament to her warmth, experience, and spirit. It felt as if we were already long time friends. What surprised us the most was the ways in which she prepared both of us for this experience. Birth coaches are essential not only for the pregnant person, but also for their partner.
Our pre-labor sessions with Stephanie were treasured moments where we could truly focus on the arrival of our baby. They helped to create a stronger sense of intimacy between us, which ultimately translated into how we brought our daughter into this world. Stephanie is a wealth of information and helps you focus on what is really critical. She says from the beginning that her role is to take on your stresses so that you don't have to and surprisingly, it works. We left every pre-labor session with Stephanie with a renewed sense of energy and excitement as well as with steps to help prepare us for birth.
Stephanie was ALWAYS available and responsive to our calls, texts, and emails and was the first to arrive on the day I gave birth, transforming our space into a Zen retreat. Her and my husband were a rockstar team and that was because of the trust that was carefully established. After my delivery, which she was by my side for the entire time, she stayed with us for several hours to ensure that our new family of three felt at ease. We were in constant communication for days afterwards, and during my post-partum visit, she offered to speak with some of our family members whose nervousness about my breastfeeding had been causing us some stress. Don't hesitate to hire her! —E.D.